Speech Trek:
A speech contest for 10th & 11th grade girls in the Salem area
March 16, 2019 at Chemeketa Community College in Salem
2019 Contest Theme: Positive Change for Women. Contestants are asked to prepare a persuasive speech focusing on one of the following topics:
1. Pay Equity – Why does pay equity matter?
2. Who is the most influential woman leader since 1900?
3. How have women been portrayed in the media in the past and how should that change?
The links below contain details about the contest and the requirements:
or
Registration Deadline: February 22, 2019 at 11:59pm
Important! All contest registrants must fill out and sign the following forms and bring them to the contest:
Required: Affidavit of Eligibility and Release Form
Required: Parent Guardian Permission Form
________________________________________________________________________
Past Events
Watch this event on YouTube: https://www.youtube.com/watch?v=yHpr31coMoM&t=164s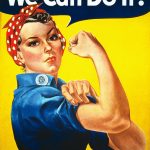 Rosie the Riveter:
Stories from Women Who Were There
March 3, 2018